Watch: Restoring a Heckel Bassoon
February 19th, 2019
Watch: Restoring a Heckel Bassoon
Watch: Restoring a Heckel bassoon in the Double Reed Ltd. workshop
Watch our three part video series showcasing our recent restoration of a stunning Heckel bassoon:
Part 1...
Stripping non-original paint from a Heckel bassoon. This Heckel had been poorly painted by a previous owner, covering up the original finish and tiger stripes. The new paint had become worn and patchy, so we decided the best way to restore the instrument back to its former glory, and protect the wood, would be to strip the paint off and sensitively restore it in its original colour...
Part 2...
Re-colouring this stripped Heckel bassoon. The transformation of this Heckel is magnificent - we stripped it down in a previous video, and are now re-colouring it back to what its original finish would have been like. The bare wood at the beginning is beautiful, and the dyes and colours we use are designed to sensitively bring out that natural beauty - towards the end of the video you will see a world-class instrument re-emerging in all its former glory. The new finish will protect the gorgeous wood of this bassoon for generations to come, and is far superior to the non-original paint used by a previous owner.
Part 3...
Restoring a Heckel bassoon. After a total of 120 hours of restoration work, the finished transformation of this Heckel bassoon is astounding. This video shows some of the highlights of the process, from restoring the bore, to repairing worn keys, fitting finger hole liners and more. This bassoon now looks and sounds gorgeous, with a rich and sonorous tone - it truly is a testament to the vivacity and longevity of these world-class pre-war bassoons.
This instrument is now available for trials - read more about this bassoon here.
Contact our in-house
Repair service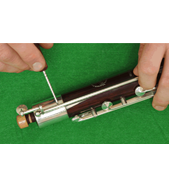 Looking for some
advice or more information?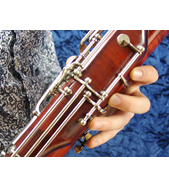 Does your bassoon/oboe need a repair or service?
Why not get in touch?