Our relationship with you
Double Reed Ltd.'s terms and conditions and practices comply with UK legislation, including the Consumer Contracts (Information, Cancellation and Additional Charges) Regulations 2013. These terms and conditions are designed to ensure that our customers can shop in safety and security; they apply to private customers only - different terms and conditions apply to trade customers.
These terms and conditions do not affect your legal rights.
In these terms and conditions "we", "our" and "us" refer to Double Reed Ltd.; and "customer", "you" and "your" refer to purchasers of goods and services from Double Reed Ltd.
Pricing and Payment
All prices are in pounds sterling inclusive of any taxes and delivery charges to mainland Britain unless otherwise stated. Please enquire about delivery charges outside mainland Britain.
Prices, offers and products are subject to availability and may change without notice.
You may pay by any major credit card or debit card, by cheque, BACS and IBACS, and cash with two exceptions: card payments are restricted to items costing less than £5,000 and are not accepted for commission sale instruments. Credit and debit cards are accepted through this web site; other forms of payment by arrangement. Payment must be received before goods are shipped unless a Try Before You Buy arrangement has been agreed.
Title to the goods remains with Double Reed Ltd. until full payment is received.
Order Placement and Acceptance
Orders may be placed via our web site or in person.
When you place an order it constitute and "offer to treat". If Double Reed Ltd. accepts your order, you will be sent a confirmation email with an invoice within one working day of receipt of the order, at which point Double Reed Ltd. makes a legal contract with you. We will inform you by email if your order has been declined or cannot be fulfilled. A full refund will be given within 2 working days in the event that we do not or cannot accept your order, using the payment method used to place the order.
Order Cancellation
You may cancel your order at any time up until 14 calendar days after receipt of the goods. We will provide a full refund in the event of order cancellation and return of the goods within 14 calendar days after receipt, subject to any deduction for wear and tear or damage to the goods. 
On receiving your cancellation we will acknowledge receipt of the cancellation by email, which will include instructions for return of the goods.
Items which you wish to return must be kept in good care, and must be returned in the original packaging, securely wrapped. If in doubt about packaging requirements please ask us before dispatching.
Refunds are provided within two working days of receipt of the goods by us.
Delivery
For payments using credit and debit cards delivery will be to the cardholder's address unless agreed otherwise.
Delivery will be by Royal Mail for small items and courier for larger items. Delivery by courier will be by arrangement following placement of order.
We will send you an email once your order has been shipped, together with the relevant tracking information if shipped by courier. 
Risk in the goods passes to you upon delivery.
Warranty
Our warranty is as follows (see exclusions below): 
New durable items (e.g. bassoons, stands, cases) are guaranteed to be free of manufacturing faults and fit for purpose for 12 months from the date of shipment. For new durable items we will provide a replacement item, repair your existing item or provide a full refund if the items are faulty. 
New consumable items (e.g. reeds, cork grease) are guaranteed to be free of manufacturing faults and fit for purpose when delivered and for a reasonable period thereafter up to a maximum of 12 months depending upon the item and usage.
Second hand instruments belonging to Double Reed Ltd. are guaranteed for one year from the date of shipment. For second hand items under warranty, we will repair the items or, if unrepairable, refund the initial cost. 
Repairs shall be carried out following standard industry practices. 
Our warranty excludes: 
Items which have been damaged or made faulty through anything other than normal use

Items which have become damaged or faulty through normal wear and tear
(In the case of second hand items) faults/defects which were present when sold
Reeds which have been unsealed and used apart from those damaged or faulty when supplied (for hygiene reasons)
Your statutory rights take precedence over our warranty terms in the event of a disparity between them. 
Double Reed Ltd. Contact Details
Our registered and business address is:
Double Reed Ltd., 38 Fields Park Road, Newport, South Wales, NP20 5BB, United Kingdom
Our telephone number is: 01633 677729
Our email address is: enquiries@doublereed.co.uk
Jurisdiction
Sales are governed by the law of England and Wales and by ordering from us you agree to submit any dispute to the non-exclusive jurisdiction of the courts in England and Wales. 
Web Site Terms and Conditions of Use
Double Reed Ltd. owns the copyright in all materials on this site, which may be used, downloaded, copied, reproduced, republished, posted, broadcast, transmitted or linked for your own personal and non-commercial use only. You agree not to adapt, alter or create any derivative work from any material on this site, or to restrict or inhibit the use or enjoyment of this site by anyone else.
Please see our Privacy Policy
High-quality
Second hand bassoons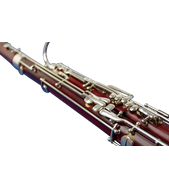 Read our
Customer reviews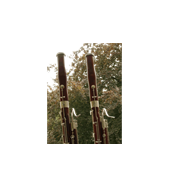 Highly popular
New mini bassoons