Our first decade
October 8th, 2021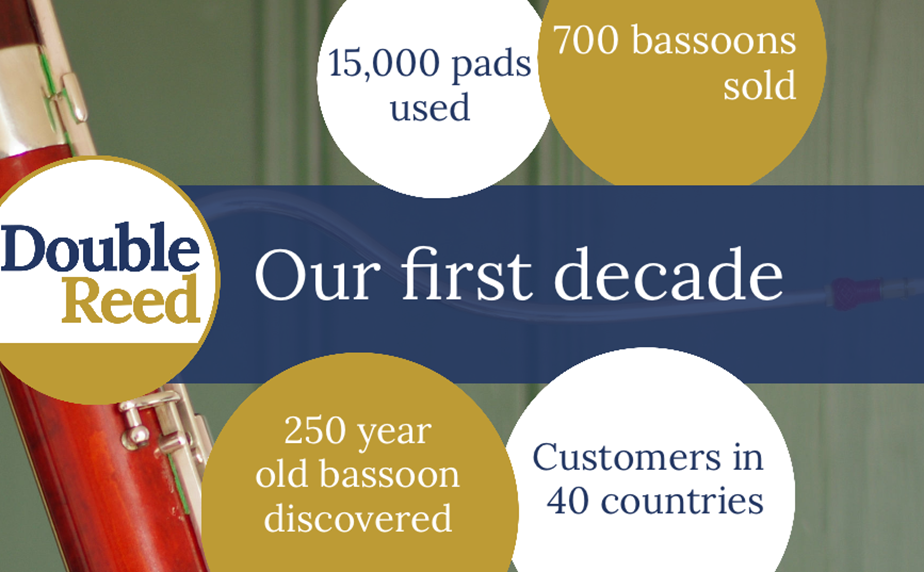 Double Reed Ltd. - our first decade
Over the last 10 years we have built up a few memories and experienced a few notable events, so we thought we would share a few here.
700 bassoons sold
We have sold getting on for 700 bassoons, contrabassoons and mini bassoons over the years. It doesn't sound a lot when put in bald terms like that, but almost every sale involves an intense period of discussion and advice beforehand – to be expected for what is an expensive investment of course – and we can still remember most of our bassoon customers and what we sold them. 
15,000 pads replaced
Most of these bassoons have been completely re-padded, so we have replaced around 15,000 pads in that time. We have supplied some thousands of customers as well, in more than 40 countries from all continents with the exception of Antarctica and South America.
An empty box
We have shipped many, many hundreds of bassoons by courier, but have never lost one we have shipped. We have had one or two frights though. Once, a customer from Spain phoned to say that the delivery had arrived but the case was empty. Ten minutes later he phoned to say he was joking! At least he thought it was hilarious…
A police sting
Several times we have been offered bassoons we knew to be stolen and if at all possible we try to assist in recovery. On one occasion we were offered a bassoon the owner of which had contacted us beforehand, and we helped to facilitate a sting between an owner and the thief on the concourse of a major London railway station, with British Transport Police in attendance lurking behind a pillar to leap out and arrest the thief.
A mismatched Heckel bassoon
As a dealer we occasionally buy from outside the UK, although we are offered more bassoons to buy than we need from private UK sellers generally. We have had a few good and bad purchases along the way. The worst was a purported Heckel from Eastern Europe which turned out to have a couple of Heckel joints and a couple from elsewhere that didn't even fit together. That is still lurking at the back of a cupboard!
A 250 year old original baroque bassoon
The most exciting one, if our research proves correct, was a recent purchase of an original French baroque/early classical bassoon made by the renowned Parisian maker Thierrot Prudent (1765-1830). Only 11 are known in the world, and this one isn't one of them. If proven correct, it will become a treasured possession and won't appear for sale any time soon.
Four repair technicians trained
On the repair side we have trained four repairers from scratch to carry out the most demanding bassoon repairs, contributing significantly to the pool of specialist repairers in the UK. We have serviced, overhauled and carried out keywork upgrades on a multitude of bassoons belonging to customers, including many professional bassoonists' bassoons around the UK and Europe.
10 degrees amongst 6 staff
Bassoon repair is highly complex and we have always taken the decision to employ the most capable people we can find and train them up. Our three current repairers, for example, have six degrees between them (four in bassoon performance, one in Information Engineering and one in Biochemistry), so there is no shortage of brainpower there to solve the most demanding challenges! Mind you, we three non-repair staff have four philosophy degrees between us. I'm not sure what that says about us, but if you want to discuss the niceties of Friedrich Nietzsche or Plato, or the philosophy of bassoons and bassoon playing, you know where to come!
Dr Liam Fox visit
Other memorable events include an official visit to us from Dr Liam Fox when he was the UK Secretary of State for International Trade - he took a great deal of interest in what we do and firmly encouraged us to focus on exporting and to make our own bassoon. We have also enjoyed several fascinating visits to the William Waterhouse bassoon collection in Gloucestershire, not to mention all the shows we have been to, meeting many delightful bassoonists.
Lots of learning
Along the way we have had to get to grips with maple wood and all its characteristics, varnishing processes, metalworking, the use of machinery including lathes, the law as it affects us, accountancy, web design, social media marketing, ever-changing import and export regulations and a host of never-ending challenges to keep us alert.
Over the years we have been helped by many people in the industry, from experts in bassoons and bassoon repair elsewhere in the world, to a whole string of devoted and loyal customers, and we are very grateful to all of them.
We look forward to the next 10 years being as fruitful and enjoyable as the first…
High-quality
Second hand bassoons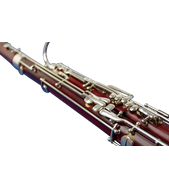 Carefully selected
Accessories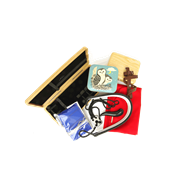 Our favourite
Bassoon reeds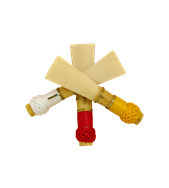 For any bassoon
Try Before You Buy